Introduction Auviet Food
Au Viet Food Import Export Processing Joint Stock Company (Au Viet Food) was established at the end of 2017 with a charter capital of VND 86 billion (US $ 3.8 million).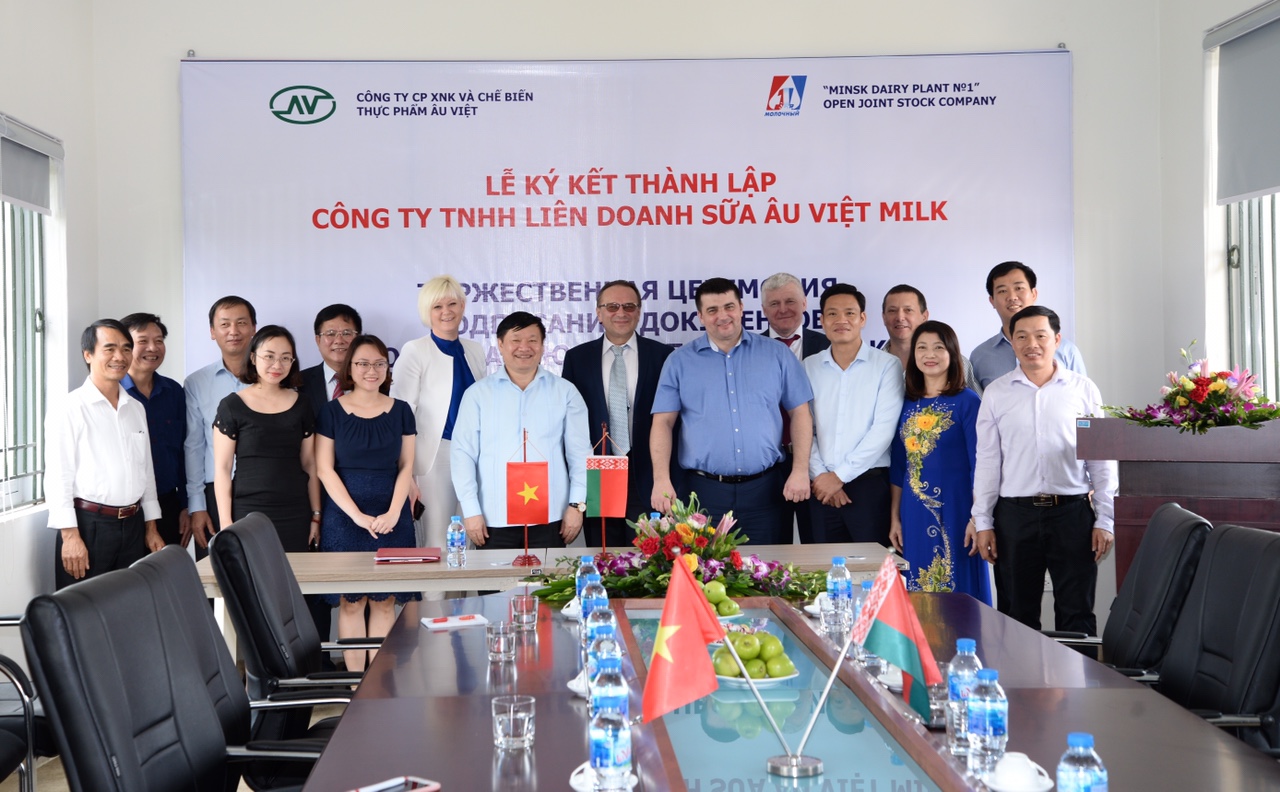 Since the beginning of 2019, Au Viet Food Company has officially cooperated with Belarus No.1 Dairy Factory (belmilk) to establish a company to produce milk products for the Vietnamese market with production capacity of 36000 tons  per year on the construction area scale of 3.8 hectares.
Au Viet Food's target in the next 5 years with the food segment will achieve the distribution of US $ 2 million of dry dairy materials, US $ 1 million with the import and distribution of dairy products, US $ 8 million with import export and distribution of frozen meat and meat products and support bringing Vietnamese agricultural products to international levels.
Currently, the company is exporting and distributing the following agricultural products: Whey powder, milk powder, potato starch, tea, coffee, fresh milk, beverages, frozen meat …
Vision
Being a reputable supplier of food ingredients in Vietnam, bringing high quality food products to Vietnamese market and supporting the export of Vietnamese agricultural products  
Target:
With customers: Bring quality products with flexible financial, delivery and payment solutions to ensure quality and benefits for all customers. For shareholders: Ensuring efficient operation, rapid and sustainable development, ensuring long-term value for shareholders and investors. For society: Harmonizing corporate and social interests; contribute positively to community activities, so that the development of enterprises contributes positively to the overall development of the whole society, contributing to environmental protection. For employees: Implementing a satisfactory working policies in order to encourage employees to create new values ​​for customers, shareholders and the whole society.
Core value:
Professional – The team is highly professional skilled, maintaining a high sense of responsibility with a rigorous accountability process fromimport-export, production, inspection to distribution. Understand the responsibilities of each individual  and management with the development orientation of the organization.
Commitment – Commitment to quality of products and service. Commit to towards long-term cooperation with sincerity, sharing and providing beneficial solutions to partners and customers

 

Community – Contribute to the society and support the development of  life quality of customers and employees. Towards a clean and green environment for society and the community.

 

Diversity – Provide diffent kind of food products suitable to the needs of customers and partners